Premium Cleaning Products for Your Home or Business
Learn More About Our Multi-Purpose Sprays, Foaming Soaps, and Pure Hard Surface Cleaners
Keep Your Employees and Yourself Safe With Quality Cleaning Products
No matter what time of year, bacteria and viruses are constantly floating through the air, threatening to infect. NP9 cleaning products can help protect you and your employees with high-quality cleaning products, made with concentrated, yet gentle ingredients. From surface cleaners to hand soap, we've got you covered when it comes to cleaning. Learn more about the products we offer and order yours from NP9 today!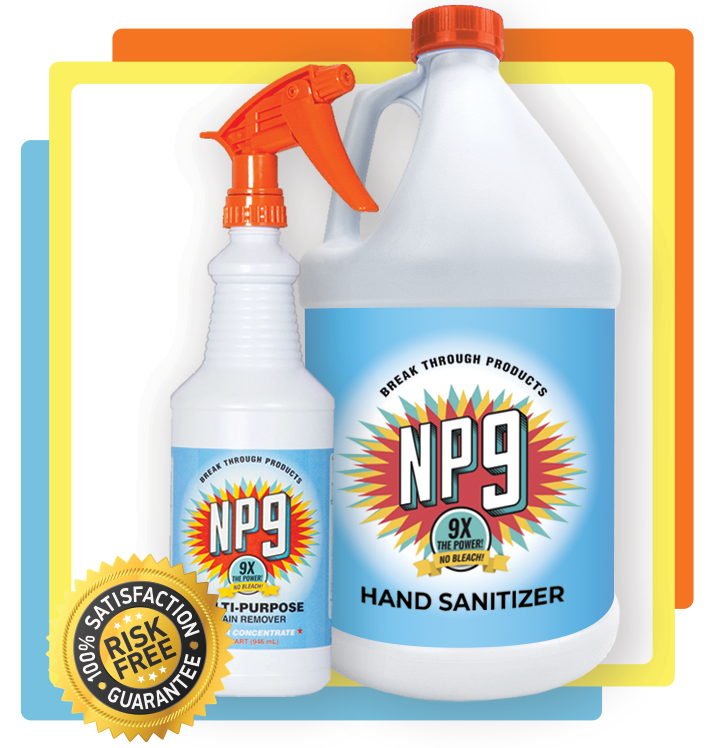 • NP9 Hand Sanitizer
• Pure Corona Killer Hard
• Surface Cleaner
• Multi-Purpose Stain Remover and Odor Eliminator
• NP9 Foaming Hand Soap
• And More!
Our Highly Effective Stain and Odor Eliminator
Keeping your house and belongings free of germs is just as important as regularly washing your hands when it comes to protecting against illness. NP9 makes keeping your house germ-free simple with our highly effective stain remover and odor eliminator. Our super-concentrated formula cuts through the worst of stains, without the use of bleach. In fact, our formula is nine times stronger than the power of bleach, but it's gentle enough to use on clothes.

If you are in need of a stain and odor eliminator for your home or business, get your NP9 Multi-Purpose Stain and Odor Eliminator today!


Keep Those Hands Clean With Our Hand Soaps and Sanitizers
In the current climates, washing your hands has never been more important. At NP9, we understand the value of being able to keep your hands consistently clean without having to break the bank. That's why we've created the NP9 Foaming Hand Soap and Foaming Hand Sanitizer.

Packaged in a commercial bottle, you'll have plenty to go around, whether you're using this at home or for your business. Our hard-working formula will guarantee that your hands feel squeaky clean, but not dry and cracked. Our foaming soap creates a sudsy lather — less is more when it comes to our soaps and sanitizers. Keep yourself protected and order NP9 Foaming Hand Soap or Hand Sanitizer today.


Protect Yourself From COVID-19 With Our Pure Corona Killer
Coronavirus doesn't stand a chance against the Pure Corona Surface Cleaner from NP9. Formulated using the safest ingredients, this surface cleaner spray can be used throughout your house or business, on hard or soft surfaces. Not only does this spray work to protect you against coronavirus, but it also kills 99.9% of germs and bacteria that cause illnesses such as MRSA and foodborne illness. To get your hands on some of this ultra-protective spray, order from NP9 today.


The Value of Cleanliness
Now, more than ever, we have come to realize the importance of keeping yourself and your home clean to help protect you and others from threatening illnesses. Our team at NP9 understands exactly how critical it is to help others stay clean, which is why we've formulated top-quality cleaning products for you, your home, and your business. Now, you don't have to worry about killing germs with hazardous chemicals. Our products are made with gentle ingredients that will get the job done without exposing you to harmful ingredients.

Our team at NP9 strives to provide every customer with cleaning solutions that are safe, gentle, and highly effective. We know that most effective cleaning products include nasty ingredients that can be harmful to you, your family, or your employees, which is why we believe in creating products that leave out those harmful chemicals, but get the job done just as well. Protect yourself, your home, and others from illnesses when you use our top-of-the-line cleaning products — order today!